News and Event Highlights | Scholarship News | Golf Classic | FunClay Shoot | Football Classic | Applicant News | Photo Gallery
$699,500 Awarded at 53rd Annual Awards Ceremony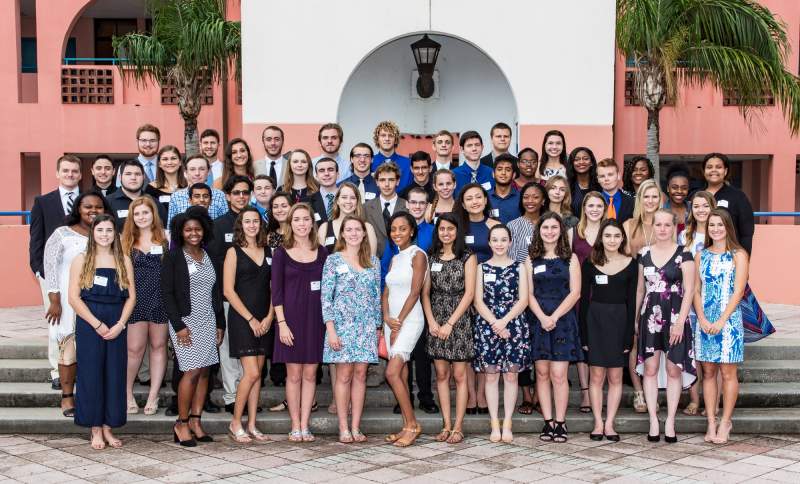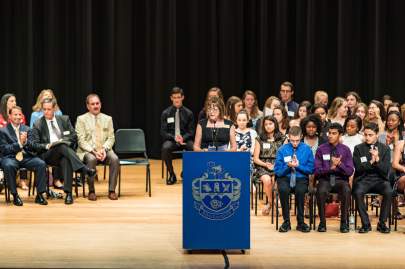 Scholarship Foundation awarded 112 college scholarships to 55 local students at its 53rd Annual Awards Ceremony, held at the Sebastian River High School's Performing Arts Center on May 16, 2018. This year's recipients will receive $699,500 in need-based financial aid over the next two, three or four years to attend 19 colleges and universities in seven states and the District of Columbia.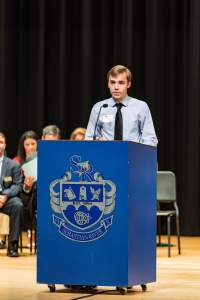 Parents, friends, alumni and donors gathered as scholarship sponsors and board members presented the awards. Kadin Campbell, a 2013 Sebastian River High School graduate and recipient of Scholarship Foundation's Mary Hope Smathers and Marian Block Memorial Scholarships, gave the alumnus address. Kadin graduated from the University of Florida in three years with a BA in history, earned his Masters in Social Studies Education and is now giving back by teaching 7th grade civics at Oslo Middle School. He credited Scholarship Foundation for helping him overcome the financial barriers that threatened to keep him from achieving these goals. He reminded recipients that although they worked hard to get where they are, they didn't go it alone. "Someone in your life helped put you on the map; a parent, a teacher, a friend. Reflect on the people who helped you set the stage for your lifelong success and give back. Recognizing them with a simple 'thank you' is a good start and capitalizing on the opportunities they helped you create is the perfect finish."
This year's scholarship package, which depends on each recipients unmet financial need and the strength of their preparation for college, range from $3,000 to as much as $30,000.
Richardson Scholar Awards Honor Brightest and Best
The presentation of the Richardson Scholar Awards is a highlight of each year's Awards Ceremony. Applicants for these awards, SFIRC's most prestigious and competitive scholarships, must demonstrate the highest levels of achievement in academics, service and leadership. Among this year's 28 candidates were many well-qualified, talented and deserving students.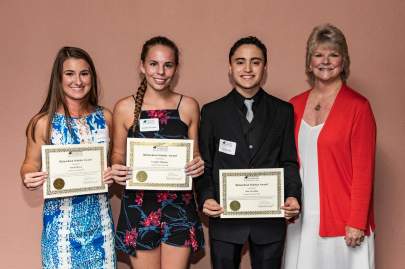 Nancy Richardson Luther presented the awards to this year's recipients: VBHS's Sarah Mazza, who will attend Boston University with a major in human physiology, SRHS's Cassidy Thimmer, who will attend the University of South Florida with a major in architecture and SRHS's Jose Torrellas, who will study biomedical science at the University of Central Florida. She notes that each year she is "awestruck" with how capable the students are. "Without a doubt," she said, "it reconfirms my faith in the youth of our country, for they are truly outstanding in their character, their abilities and their accomplishments."
The Richardson Awards were established more than 30 years ago by Nancy's family. Her father Dan Richardson, along with members of the Vero Beach Rotary Club, founded SFIRC in 1965. In setting up the Richardson awards in 1985, the family's aim was to "seek out and nurture potential decision makers who will have a future impact on our country and the world." Made possible with an endowment gift and continued support from the Richardson family, SFIRC is proud to provide these awards each year to the brightest and best of our county's many talented graduating seniors.
Gift Funds New Award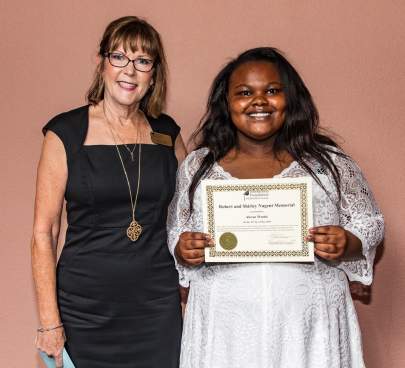 Through the generosity of SFIRC Board President Joan Cook,one of this year's recipients is the beneficiaries of a new award - the Robert and Shirley Nugent Memorial Scholarship. This awared was created in memory of Joan's parents, who raised five children and impressed on them the importance of education. In presenting the award to Sebastian River High School Senior Alexus Wood, Joan noted that her mother didn't have the opportunity to complete high school because she had to go out to work to help her family financially. She always wanted more for her children. Joan's mother passed away last year, and Joan felt it fitting to honor her parents with this award. Her parents, both of whom worked in accounting, would be pleased to know that Alexus will be pursuing a degree in accounting at Stetson University next year.
Supporters Present

2018 Awards
Orchid Island Scholarships
Grand Harbor Outreach Scholarship
Quail Valley Charities Scholarship
Herget Foundation Scholarship
Margaret McReynolds Memorial Scholarship
John Avril Memorial Scholarship
Garden Club of Indian River County Scholarship
Sengupta Family Scholarship
Read our
2018 Newsletter
Join Us for these fall fundraising events!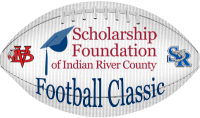 News Highlights Archive