Alumni - We Need Your Support
A Message from Sandra Rennick, Former Board Member and Scholarship Recipient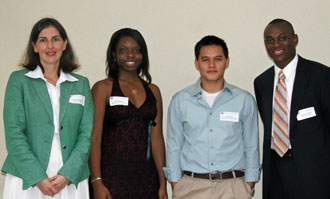 Scholarship Foundation former President and Vice President Sandra Rennick joined by recipients and alumni at the 43rd Annual Awards Ceremony. From left, Sandra Rennick; Keynote Spreaker Lori Monroe,

Class of 2006;

David Polk,

Class of 2006;

and Josceyln Worrell, Class of 2001
Welcome!
As a fellow recipient of a Indian River County Scholarship Foundation award, I too benefited from the generosity of our community.
I now have the opportunity to assist current scholarship recipients as a SFIRC Board Member. I joined the Board in 2001 with the intention of giving back to an organization that supported me in my first year at Davidson College in North Carolina. One of my goals when I joined the Board was to help us reconnect with our alumni.
I recall fondly, when I was in college, holiday gatherings at Dan Richardson's home where I had the opportunity to visit with former classmates. I enjoyed receiving a newsletter that highlighted the success of fellow recipients. We now look forward to this website serving as a forum for recipients to share news and happenings.
We welcome recipients to reach out to Board Members with ideas and suggestions. How can our organization do a better job for the students of Indian River County? We need and ask for your input. Let us know if you would like to serve as a volunteer, on a committee, or our Board. You are the future of our organization, and we look forward to partnering with you as we continue the mission of Scholarship Foundation of Indian River County.
To All Scholarship Foundation/Dollars for Scholars Alums-
We want to know where you are and what you are doing! Send us an email to director@sfindianriver.org. Thanks!
Alumnus Michael Stutzke
on Giving Back
"Growing up in Indian River County has had its benefits. One that I value most is the scholarship afforded me through Scholarship Foundation of Indian River County. I would like to encourage each recipient of a Scholarship Foundation scholarship to embark on a program of giving back on an annual basis. Doing so has been very rewarding for me.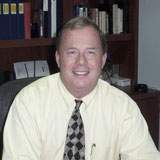 Outside of my office door is the following. Please give it some thought as it has served me well.
What I gave, I have;
What I spent, I had;
What I kept, I lost.
I hope that you will consider giving regularly to the organization that helped make your dream of a college education a reality."
E. Michael Stutzke
Retired - Athletic Director, SRHS
Recipient, 1972
SFIRC Board, 2001-2018