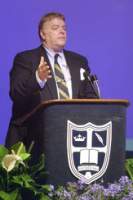 In Memoriam - Morris A. Gibbons
Morris A. "Darby" Gibbons, longtime Teacher, College Counselor and Academic Dean at St. Edward's Upper School, died on January 23 after a nearly 2-year battle with cancer. Gibbons joined the Board of Directors of Dollars for Scholars in 1998 and served in many capacities, including President, Vice President and Chair of the Scholarship Awards Committee. Each year, he also chaired the Richardson Scholars Selection Panel and conducted interviews of finalists for the Richardson and Jaffe awards.
Darby's contribution to Dollars for Scholars extended well beyond his guidance and counsel to applicants. DFS President Sandra Rennick reflects that "Darby was the leader who consistently turned board members' attention to the increasing costs of college and the decrease in state and college funding. He motivated us to work harder for the students of our community as he worked with humbling compassion for our applicants and their families. I always looked forward to his expression of ideas and the challenge he would pose for us to believe in the difference Dollars for Scholars could make for our community."
Born on February 16, 1948 at the old Naval Hospital in Vero Beach, Gibbons attended Rosewood Elementary School and continued through the Indian River County public school system until he left Vero Beach High School at the end of his sophomore year to enroll at the prestigious Deerfield Academy in Massachusetts. He graduated from high school in 1966 and entered Syracuse University as a pre-medicine student.
A variety of factors, including the Vietnam War and the guidance of a mentor from high school led Gibbons into teaching instead of medicine. After college graduation, he took a job teaching English at Winchendon School in Winchendon, Mass. He eventually moved into the role of Director of Admissions and also coached the ice hockey team. At the same time, he was reunited with his teen-age girlfriend from Vero Beach. Patti and Darby married in 1977 and had daughter Emily in 1978. Always interested in politics and world affairs, Gibbons ran a successful campaign for Selectman, the equivalent of a county commissioner, for the town of Winchendon and also became chair of the municipality's Finance Committee. He returned to school and earned a Master's Degree from the University of Massachusetts in 1984.
In the early 1990s, wanting to be closer to Darby's large family - he was the oldest of eight siblings, a total of five boys and three girls - the Gibbons returned to Vero Beach, and Darby accepted a position as English teacher at St. Edward's Upper School. He often taught freshman and was sometimes given the "challenging" students as he had a knack for making literature come alive and for motivating every student to learn in his or her own way. Students described Darby's classes as a great deal of fun, citing his quick wit, his sense of adventure in exploring literature and his genuine and passionate love of the subject and of his students.
Darby soon began teaching fewer classes and focused on counseling. He served for many years as the head of College Counseling and was promoted to Academic Dean in 2008. Over the years, at the Winchendon School and St. Edward's Upper School, Gibbons helped hundreds of young people discern their career paths and get into the colleges of their dreams. Through Dollars for Scholars, he was instrumental in making thousands more dreams come true by being actively involved in the selection process for major need-based scholarships to local students from all area high schools.
This is a great loss to our organization. Everyone at Dollars for Scholars will miss Darby's compassion, his lively sense of humor, his sparkling talent for writing, for speaking and for generally inspiring us all to dig deep and find our own passions. He enjoyed every moment of his life, always happy and optimistic, even in his final days. When friends and loved ones visited or called, Darby immediately turned the topic of conversation away from his disease and his own suffering onto something much more interesting to him, such as politics or the life of the caller. He was the kind of person who remembered birthdays and your children's names and was endlessly curious about everything, especially people. His door was always open, to young and old alike, and he truly served as a valued mentor and father-figure to many, many souls who are infinitely better off for having known him.