Make a Plan | Apply to College | Apply for Aid | Planning FAQ
Apply Early for Aid
Get Organized
If you have not already done so, make sure you know the requirements for the government, college and other scholarship aid you will apply for. All schools require you complete the federal government's FAFSA (Free Application for Federal Student Financial Aid), some require you file a CSS PROFILE (the aid application service of College Scholarship Service, the financial aid division of the College Board), and many will have their own applications or supplemental forms.

Get all the forms and write down all the requirements and deadlines on your college planning calendar. Review it regularly so you don't miss deadlines. Make sure you know your colleges' priority deadlines, i.e. dates by which you will be considered for all available aid. The early bird definitely catches the worm in the world of financial aid. Some government funding (e.g. Pell Grants) is available to all students no matter when they apply, but most aid is limited and often awarded only to those meeting priority deadlines.
Complete the FAFSA
The FAFSA (Free Application for Student Aid) is the cornerstone of all federal and state aid programs. It opens for applications on October 1 and now uses already-filed tax return information, so there's no reason to delay your application. Fill it out, even if you don't think you will qualify. It must be filled out to get the Stafford Loans available to all students. Some private schools are now providing need-based aid to families with higher income levels. Apply early to make sure you have an error-free application to meet deadlines.
Apply for an FSA ID. Apply for student and parent FSA IDs from FAFSA and keep them in a safe place. The student must login with their FSA ID and the parent must sign with theirs indicating that all information is accurate. Not having or knowing your FSA IDs can delay you, so apply early and keep track of them.
Organize your documents. Print out the pre-application worksheets from the FAFSA website. Find out what information you will need, and start getting it together.
Calculate your EFC. Even prior to October 1, you can use the FAFSA4Caster to get an idea of your Expected Family Contribution (EFC). It's a good idea to know this as soon as possible, as your EFC plays an important role in how much aid you will get. With that information you can get an idea from schools, counselors or aid offices of what levels of aid you might qualify.
File your application. The FAFSA system opens on October 1. We recommend you file your FAFSA as soon as it opens. Colleges have moved up their priority or "on-time" financial aid deadlines, so you will possibly miss out on aid if you delay. File online. If there is a problem with any of the information you submit, it can take several weeks longer to sort them out. In addition, some applications are pulled randomly by the colleges for verification (indicated by a * on your Student Aid Report). This means you will have to submit more informaton to the colleges, so the earlier you get all these possible issues sorted out, the better off you will be. You are striving for an error-free application by your school's priority deadlines.
Print your Student Aid Report (SAR). Once your application has been processed, you will be able to go back into the FAFSA online system and print your SAR. Check in a couple days, and keep checking until it's available.
Resolve any issues. When you get your SAR, check it over. If it shows an asterisk (*) next to your EFC, your application has been selected for verification (see FAQ). If there are letters next to some of the numbers on your SAR, they have been estimated by the system or deemed to have issues. All issues must be resolved, so call FAFSA customer service or your college's financial aid office to understand what you have to do. Also, remember, you may appeal to a college to consider unusual family circumstances that may qualify you for adjustments to your EFC. If so, call the aid office and follow their instructions for making an appeal in a respectful, organized manner.
Complete the CSS Profile (if required)
This application is made through the College Board website and also opens on October 1. Complete this and any other required forms for the schools you are applying to.
Register with Bright Futures
All Florida students should register with Bright Futures. To be eligible you must register prior to graduation. Registration opens on December 1 each year. These awards require you meet hurdles for standardized tests, GPA in specific academic subjects, and community service hours. Register early and request a transcript analysis so you know what you need to do in the balance of the senior year to qualify. You are expected to know the requirements. Be sure to apply even if all the schools you are considering are outside Florida, since you must do so before graduation. Awards may be claimed up to three years after graduation. If your plans change unexpectedly or if you decide to transfer to a Florida school sometime in your college career, you will want to have this funding available.
Complete and follow up all applications
...including college forms and supplements, and all other national or local scholarships you are applying for. After submitting your applications, check to make sure they were received, and nothing is missing. Be prompt handling any follow up requests, as delays may end up decreasing your aid package. If you are hoping to receive a talent-based scholarship for athletics, music, etc., be proactive about keeping lines of communication open with your contact person and about getting everything promised to you in writing. Also, make sure you know what the terms are for renewing the award from year to year and what will be required of you to keep this scholarship (minimum GPA, weekly hours of participation, training outside the school year, travel, special equipment, etc.)
Make funding plans for each school
Now is the time to decide how you would pay for each school you are applying to. Make sure you know the Cost of Attendance (COA) for the upcoming year, then add to it all your likely expenses that are not included in the school's forecast (like computers, realistic food and entertainment budgets, travel back and forth from school for holidays, etc.) If you already have an aid package from your school, you will know how much you have to fund on your own. Update your family's budget to figure out how much they will be able to provide out of your family's income. Then decide how you will fund the rest, by using student loans, student's part-time job, savings, home equity loan, PLUS loan taken out by parent, etc. Even if you don't have an aid package, try to have a realistic estimate of what you will get and figure out how you will fund the gap. College aid and scholarships rarely cover all of your costs, so start thinking about funding options early, so you will be in a position to evaluate aid offers when they come in.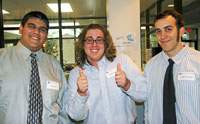 QUICK LINKS
College Planning:
College Board
Studentaid.gov
Financial Aid Planning and Tools:
Finaid.org
CollegeGold.com
FAFSA4caster
EFC Calculator
EFC Formula: 2022-2023
Federal Loan Guidelines
Common FAFSA Errors
2018-19 FAFSA Example
Financial Aid Applications:
FAFSA
Florida Bright Futures
CSS PROFILE
Scholarship Search:
College Board
FastWeb.com
Federal Student Aid
SallieMae
Scholarship Foundation Guides (pdf):
College Priority Deadlines
Stafford Loan Limits
College Budget Worksheet
High School Guidance Websites:
Indian River Charter HS
Sebastian River HS
Vero Beach HS
St. Edward's School
Tip for Parents and Students
Know all the school requirements...Make a calendar
All Florida students should register with Bright Futures...Must be before graduation...even if you are not planning to go to school in Florida
Complete your FAFSA early to meet school priority deadlines.
Complete the FAFSA even if you think you won't qualify. You will need to do this to qualify for student loans.
Check off that you are interested in ALL AID on your FAFSA...Will not reduce your grants and gives you option for student loans which you don't have to take
Keep copies of all documents you submit
Keep a user name and PIN log