News and Event Highlights | Scholarship News | Golf Classic | FunClay Shoot | Football Classic | Applicant News | Photo Gallery
2022 Richardson Scholar Awards
Kayleen Diaz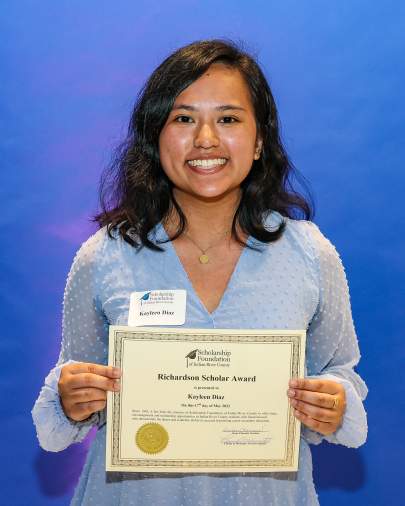 The Director of Music and Arts at the student's church describes her as someone "whose actions and words align, and with whom every interaction leaves me feeling inspired and refreshed." She is known at Vero Beach High School for being a problem-solver and tackling challenges with vision and perseverance.
As a cellist for the Vero Beach High School Philharmonic Orchestra, Kayleen Diaz earned the respect of the upperclassmen when just a freshman. She became Co-Captain and Principal Cellist in her senior year and strove to inspire and motivate her peers.
Kayleen also has a love of and passion for math. She tutored as a volunteer for the Homeless Childrens Foundation where she gained fulfillment in assisting with the progress of her tutees.
Kayleen's energetic involvement in school and the community resulted in her receiving the Talisman Holder for passion and excellence in math, the 2021 Wellesley College Book Award for top young women scholars and the Tri-M Honor Society for musicians who excel in academics, community and leadership.
Kayleen will attend the University of Florida and major in Mechanical Engineering.
Ellie MacMullan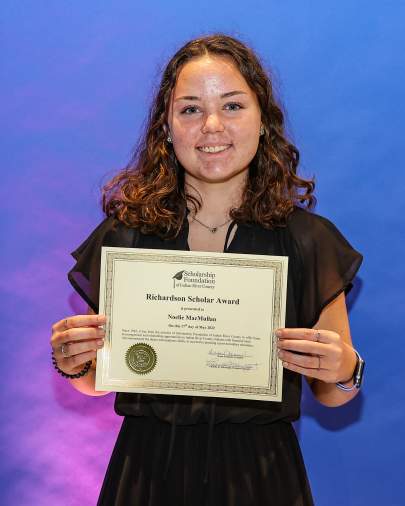 She has a highly impressive scholastic resume, including a perfect score of 36 on the ACT on her first attempt. However, according to her counselor at St. Edwards School, her transformation from an introverted 9th grader to academic and athletic leader may be just as noteworthy.
Noelie McMullan's determination to grow required her to go outside her comfort zone, but the results were spectacular. She attained the position of Vice President of the Student Council, captain of the cross country and soccer teams, first chair flautist in the Concert Band and President of the peer tutoring program. Other honors bestowed on this talented student include membership in French National Honor Society, Harvard College Book Award, National Merit Semi-Finalist and AP Scholar with Distinction and the Michael J. Mersky Character Award.
Ellie's Advanced Studies Program topic was the potential of tissue engineering to aid in the organ donation shortage problem. "This research is so important to me because the results could save millions of lives." She will focus in this field in college as she pursues a Bioengineering major at University of Pennsylvania.
Alexandria Roth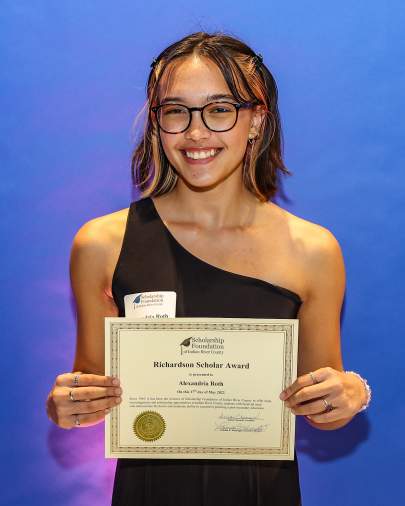 To say that this student is well-rounded would be an understatement. Her vast accomplishments include earning a 2nd degree black belt in karate, participating in the choir, taking ballet classes, being President of Key Club and teaching surfing. She challenged herself with a rigorous course-load and attained a weighted GPA of 4.56. In addition, she is an AP Scholar with Distinction and will complete her AA degree from Indian Rivcr State College prior to to graduating from Indian River Charter High School.
Alexandria Roth was highly lauded by her guidance counselor as having "a true dedication towards service, and a commitment to improving and enhancing lives within her community". She is described as mature and goal-driven but also as respectful and kind, with a genuine desire to help others. As a karate instructor Alexandria attempts to always lead by example, and a guiding principle is Proverbs 27:17, "as iron sharpens iron, so one person sharpens another". Because of her energy and incredible work ethic, she is a role model for other instructors and her peers.
Alexandria will attend University of Florida and major in Public Health.
Alexa Soderman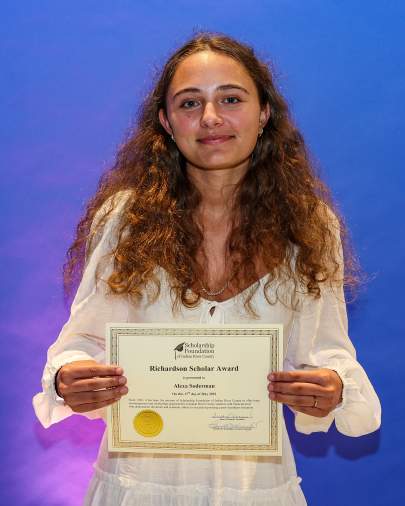 If you look up "overachiever" in the dictionary you will see a picture this Richardson scholar. While taking a full course load of AP classes, she also played lacrosse and captained the basketball and soccer teams at St. Edward's School, volunteered at Cleveland Clinic and worked on weekends at Big Shots Golf. In addition, she participated in the school's writing club, Sundial.
Alexa Soderman is described by her counselor as intelligent, mature, sensitive and intuitive. Perhaps most important, Alexa is noted to be the one to step up to volunteer in any situation. She has earned admiration and respect from her peers and teachers alike. She received a full scholarship her senior year as the recipient of the Peter Benedict Scholar, the school's prestigious award given to a junior in recognition of excellence in academics, leadership and citizenship.
As an intern for Regenerative Biologics, Alexa witnessed procedures providing stem cell therapy for the treatment of arthritis. Her Advanced Studies Program research focused on why DDT should not be used for malaria control due to its harmful effects on humans and wildlife. She plans to pursue scientific research, studying Biology at University of North Carolina/Chapel Hill.
.