Ways to Support | Why Support | Perpetual Scholarships
Donate
Checks. Each year hundreds of loyal supporters contribute to Scholarship Foundation of Indian River County, thereby helping us provide local dollars to local scholars whose needs would otherwise go unmet. Please join them. If your employer supports a matching gift program, be sure to include the form with your contribution. Checks may be made payable to Scholarship Foundation of Indian River County and mailed to:
Scholarship Foundation of Indian River
P.O. Box 1820
Vero Beach, FL 32961-1820
Securities. Many donors find gifts of appreciated securites to be a tax-efficient way of supporting us. Please contact our office for information about the stock transfer process which we can facilitate for you.

Planned Giving. Many of our awards are made possible by the through the generosity of donors who have remembered Scholarship Foundation of Indian River County in their planned giving. As a result of their generosity, we will be able to provide scholarship opportunities for generations to come. If you are interested in leaving a legacy of education, Scholarship Foundation can help explain Planned Giving options and work with you and your professional advisors to design a gift that fits your philanthropic wishes and the needs of your loved ones. Should you be interested in learning more about establishing a legacy to benefit future Indian River County students, we would be honored to meet with you. Please call or email contact Executive Director.
Sponsor
Scholarship Foundation is uniquely qualified to help Indian River County individuals, communities, foundations and organizations establish and manage scholarships for local college-bound students. Please click for more information about establishing a named scholarship or call or email our Executive Director.
Volunteer
Scholarship Foundation of IRC invites volunteers who wish to donate their time and talents to join us in helping our students fulfill their college dreams. Volunteers help us keep down our costs by helping with mailings, fund raising events, recorkeeping, and marketing. Contact us or click for a volunteer form which you can fax, mail or drop off at our office. We look forward to meeting you.
Scholarship Sponsors Find Reward in Giving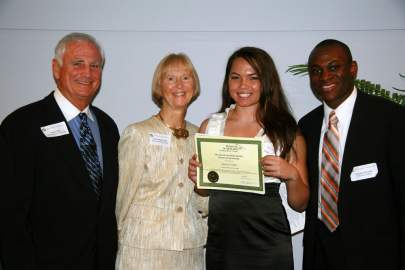 James and Merrill Barber-Dick with Barber Memorial Scholarship recipients
Thomas Steyer with 2017 recipients of the five Steyer Awards