Ways to Support | Why Support | Perpetual Scholarships
Why Merrill Barber-Dick Supports Us...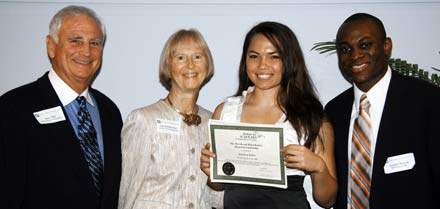 James and Merrill Barber-Dick with Barber Memorial Scholarship recipients
Angelica Gabor, 2008 and Jos Worrell, 2001
Supporting Scholarship Foundation provides a way to give a living memorial in honor of our parents, Merrill and Helen Barber. The bridge named for our dad is a beautiful inanimate object that honors his many years of public service helping individuals "to cross the next bridge or challenge in their life," as he would say. Today there is no better way to help qualified young people transition to their life's plans than to provide assistance in financing their education after high school.

Joscelyn Worrell was the first recipient of the Merrill and Helen Barber Memorial Scholarship. In Jos' own words, "All of my hopes hung on my aspiration to become a collegiate athlete until I blew my knee out!" As the fourth child of a single-mother, Jos admits, "Without the help I received, my financial picture would have been significantly impacted, not to mention my school of choice. Equally important I gained a successful mentor relationship with the scholarship sponsors as well as other opportunities."

Jos graduated from Florida State University and joined the financial services industry. Currently he holds the position of assistant vice-president as an investment consultant with Sun Trust Investment Services in Atlanta, GA. He says, " Had I not been a part of this group the road to where I am now would have been much more challenging." What a waste it would have been had Joscelyn not been able to prove his value in college and in life. He is a remarkable young man with an interest in giving back, and he continues to set and meet challenging career and personal goals in his life.
To be a small part of his past has been a special blessing personally to us. We highly recommend everyone become involved financially with Scholarship Foundation's program and help other Indian River County students meet their potential.
Merrill Barber-Dick