News and Event Highlights | Scholarship News | Golf Classic | Football Classic | Applicant News | Photo Gallery
$531,850 Awarded at 56th Annual Awards Ceremony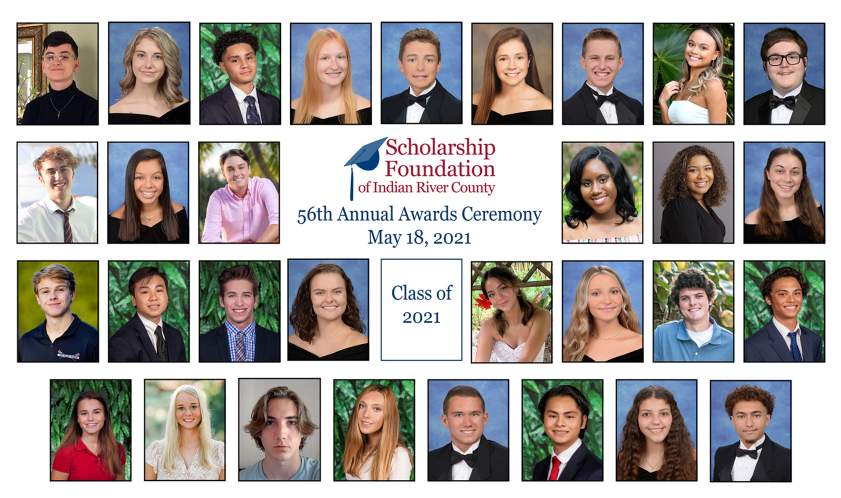 Thanks to the continued generosity and support of the Indian River County community, Scholarship Foundation awarded $531,850 in financial aid awards on May 18, 2021 at its 56th Annual Awards Ceremony held via webinar. Thirty-one local students, including six recipients already in college and four high school seniors who will receive their AA degrees from IRSC, will receive 76 scholarships to study at 17 colleges and universities in six states.
The awards, which are based on financial need and potential to succeed in college, range from $1,000 up to $7,500 per year and are renewable for up to three years—providing support to students through the time needed to earn a bachelor's degree. The new recipients join 132 past recipients who are renewing scholarships received in prior years. Scholarship Foundation awards open pathways otherwise unavailable to our students. They allow a student to attend a four-year university in lieu of a community college, to work less so as to be able to pursue an additional major or get involved in a wider range of activities, and to dramatically reduce or eliminate student loan debt they would need to incur.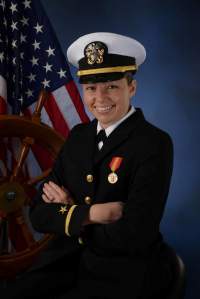 Scholarships Change Lives
This year's Awards Ceremony featured Jennifer Asselin who was a Richardson Scholar in Scholarship Foundation's Class of 2016. The valedictorian of her Indian River Charter High School class, she went on to Clemson University, where she graduated magna cum laude in just three years with a BS in electrical engineering. She now works as a submarine engineer with the U.S. Navy in Washington, D.C.
As Jennifer searched for colleges during her senior year, she knew it would be challenging financially. "I knew I wanted to be a great engineer one day," she says, "and then I had to find an engineering school that fit my needs. After thorough research and many tours, my heart was set on Clemson University in South Carolina. Clemson was never something that I could afford to attend on my own, and the Richardson Scholarship bridged the gap that made attending Clemson financially viable." Being a Clemson student meant getting involved in all aspects of campus life that helped her grow and learn about herself. "Without the help of the Scholarship Foundation, I truly don't think I would have had the opportunities I've had so far. I am truly grateful, and I hope my story shows how much of an impact this can have on the life of a student."
Richardson Scholar Awards Honor Brightest and Best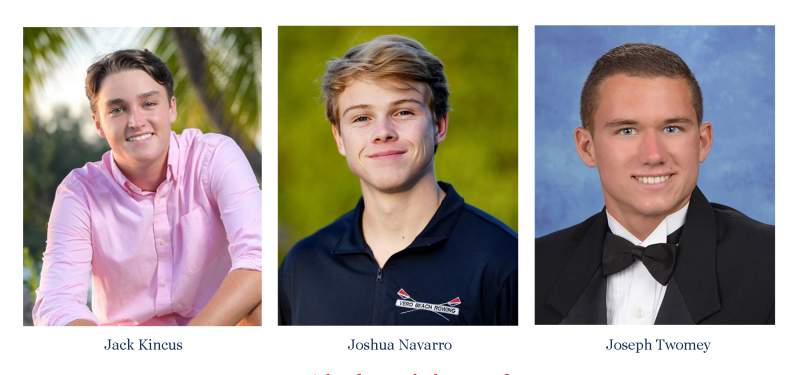 The presentation of the Richardson Scholar Awards is a highlight of each Awards Ceremony. These awards are SFIRC's most prestigious and competitive scholarships, and applicants must demonstrate the highest levels of achievement in academics, service and leadership. Ten talented applicants competed for this year's awards. Nancy Richardson Luther and her daughter Kristin Luther Lockwood presented the awards to 2021 winners: St. Edward's Jack Kincus, who will study political science at Middlebury College in Vermont; IRCHS's Joshua Navarro, who will study ocean engineering at Florida Institute of Technology and SRHS's Joseph Twomey, who will study finance at Bentley University in Waltham, Massachusetts. Diverse in their interests, these scholars share a passion for making the world a better place.
The Richardson Awards were established more than 35 years ago by Nancy's family. Her father Dan Richardson was a founder of SFIRC in 1965. The Richardson Awards were established more than 30 years ago by Nancy's family. Her father Dan Richardson, along with members of the Vero Beach Rotary Club, founded Dollars for Scholars, the predecessor of SFIRC, in 1965. The family began offering the Richardson awards in 1985 to "seek out and nurture potential decision makers who will have a future impact on our country and the world." Since then, more than 100 graduating Indian River County students have been been honored as Richardson Scholars. For the past four years, Nancy has been joined by her daughter Kristin as a member of the panel that interviews finalist candidates. A graduate of VBHS Kristin looks forward to working with SFIRC to carry on her family's legacy.
Gifts Fund New Awards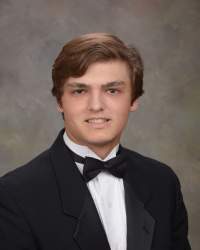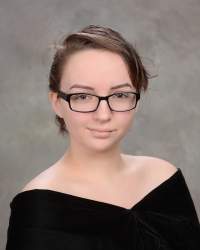 The Lisa Ekerd Colbourn Memorial Scholarship was awarded this year with funds provided by William and Ann Eckerd through the William K. and Ann M. Eckerd Foundation in memory of their daughter and the sister of Patty Eckerd and Cheryl Ernst. Recipients were Holden Campbell, a Vero Beach High School student who will be attending the University of South Florida majoring in finance and Indian River Charter High School student Caitlyn Sturtsman who will attend the University of Central Florida majoring in art education and studio art.